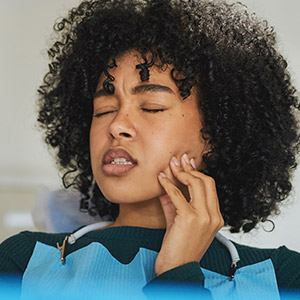 If you've been diagnosed with a temporomandibular joint disorder (TMD), you're likely no stranger to pain and dysfunction. And not just with your jaw joints: In a survey of approximately 1,500 patients, nearly two-thirds of them also reported at least three or more painful conditions like fibromyalgia, chronic fatigue syndrome or rheumatoid arthritis.
Researchers continue to gather evidence of possible connections between TMD and other physical conditions. Hopefully, this research will lead to better treatments for all of them, including TMD. But until then, patients must continue to rely on established methods for reducing TMD's severity.
Although new treatments like Botox injections have been proposed and tried in recent years, the most effective still seem to be long-standing techniques that are conservative and non-invasive in nature. On the other hand, TMD surgical procedures developed in recent years have yet to deliver on their promise: In one survey, only 6% of surgery patients gained significant relief from TMD symptoms, while nearly half reported feeling worse.
It seems the best advice, should you receive a definitive diagnosis of TMD, is to start with the more conservative measures. These treatments tend to be orthopedic in nature, generally treating TMD as a joint problem. Of these, the ones most people have found effective involve thermal therapies like hot or cold compresses against the jaw, or hot baths.
Medications like muscle relaxers or pain relievers can also play a role in reducing TMD discomfort and dysfunction. And, many patients gain benefit from physical therapy massage and exercises that target the jaw muscles. Switching to softer foods with smaller bites can help patients avoid over-stressing the jaw joints while chewing.
It's also important to understand that there is no "one-size-fits-all" treatment protocol: Individual patients and their doctors may need to experiment with different therapies to find the right combination that offers the most relief. Although this can take time, it can be well worth it if the eventual combination brings long-term relief.
From this standpoint, patients should avoid surgical options unless all other methods have been tried and still have not yielded significant relief. For most patients, however, conservative TMD treatment and lifestyle or diet changes will work—with enough time and patience.
If you would like more information on TMD, please contact us or schedule an appointment for a consultation. You can also learn more about this topic by reading the Dear Doctor magazine article "Chronic Jaw Pain and Associated Conditions."