PERIODONTIST IN BRANFORD & MILFORD, CT
Dr. Brete Moran is a specialist in Periodontics and Implantology. This Dental practice specializes in treatment of Gum Disease, Cosmetic Procedures to aesthetically enhance your smile, and Dental Implants that can replace single or multiple missing teeth. We also diagnose and treat oral pathology. Although no one likes to go to the doctor or periodontist, we strive to make your visits with us as comfortable and pleasant as possible. We strongly believe that our patient's comfort is an important part of quality dental care.
---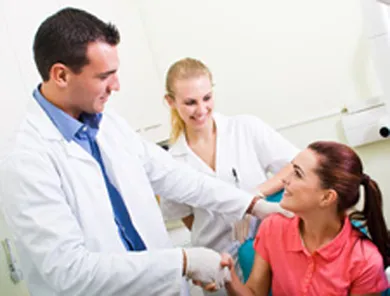 Periodontal Disease: Branford & Milford, CT
Periodontal Diseases are infections of the gums that gradually destroy the support of your natural teeth. Dental plaque is the primary cause of gum disease in genetically-susceptible individuals. As Periodontal Diseases progress, the supporting gum tissue and bone that holds teeth in place deteriorate. If left untreated, this leads to tooth loss.
---
Dental Implants: Branford & Milford, CT
Dental Implants are changing the way people live. They are designed to provide a foundation for replacement teeth which look, feel and function like natural teeth. Dental Implants also help preserve facial structure, preventing bone deterioration that occurs when teeth are missing. Learn more about Dental Implants.